Healthcare workers at risk of losing their children due to possible COVID-19 exposure
What's coming next is even worse!
Children Being Medically Kidnapped from Parents Due to Coronavirus Scare
by Allie Parker
With the amount of confirmed cases of COVID-19 in the U.S. rising every day, the majority of states have issued mandatory social isolation, but does this include isolation from your own children?
Two mothers have recently spoken out about how the Coronavirus pandemic has been used to take away their children against their will, and some judges are ordering the removal of children due to potential exposure to the Coronavirus with their parents.
A mother in Oklahoma shared a post on Facebook on March 21, stating:
"The police showed up on my doorstep at 10 PM and took my kids from me because I WORK IN A CLINIC."
According to the mother, and court documents shared on the social media site, a judge signed off on an ex parte hearing, approving the Emergency Motion to Modify Custody and for Pick-Up Order Due to Respondent Exposure to Coronavirus.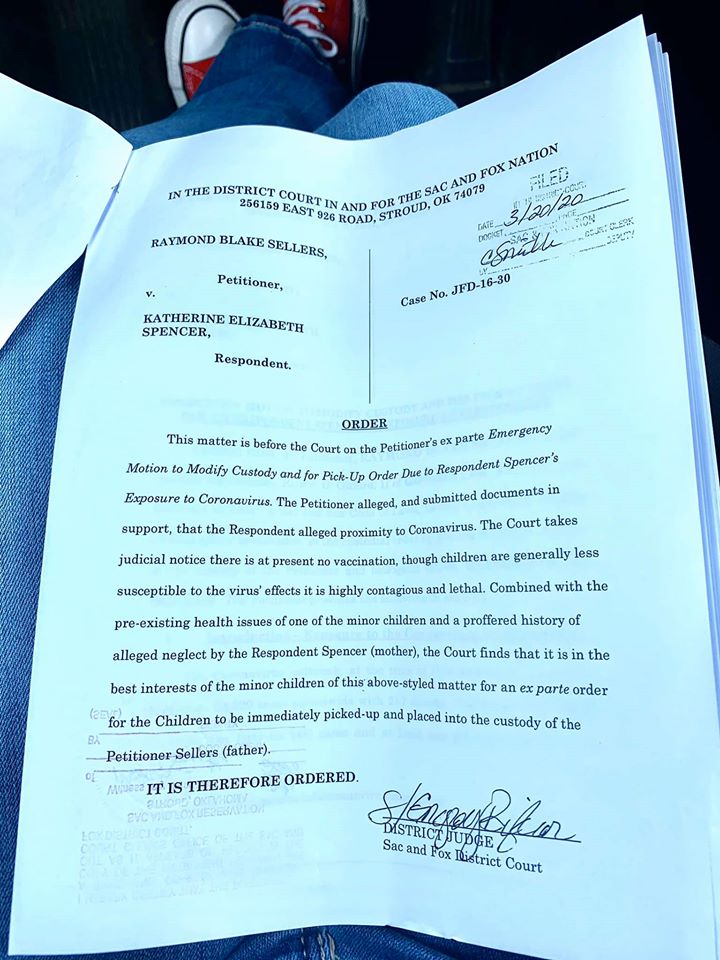 The mother sent this warning to first responders,
"Just a heads up to nurses, doctors, firefighters, police officers, and other first responders who have children and sneaky exes… watch your backs!"
She then also posted a copy of a gag order issued by the judge on her Facebook Page stating: "Not in violation by posting; asked and verified."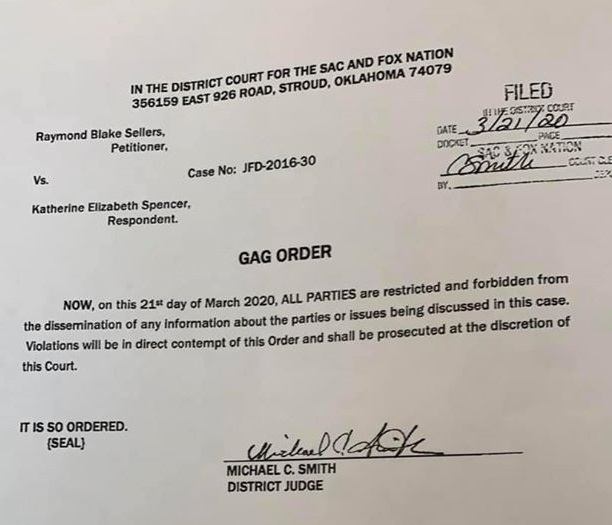 Some Judges Cancelling Visitation Rights of Foster Children with Their Parents "just when they need the comfort of their own families the most"
On Wednesday, March 18, the National Coalition for Child Protection Reform (NCCPR) provided news and commentary on their blog concerning child abuse, child welfare, foster care, and family preservation.
The NCCPR news and commentary round-up for the week ending March 17 provided the following:
"The Chronicle of Social Change is tracking the issues child welfare agencies will have to deal with during the COVID19 pandemic. And family defender Amy Mulzer has a tweet thread predicting how those agencies will deal with it: Badly."
UPDATE: And, as if to prove Mulzer right, a judge in Arkansas is cutting off in-person visits between foster children and their parents – just when they need the comfort of their own families the most.
NCCPR provided a copy of an order from the circuit court of Lonoke County, Arkansas Juvenile Division.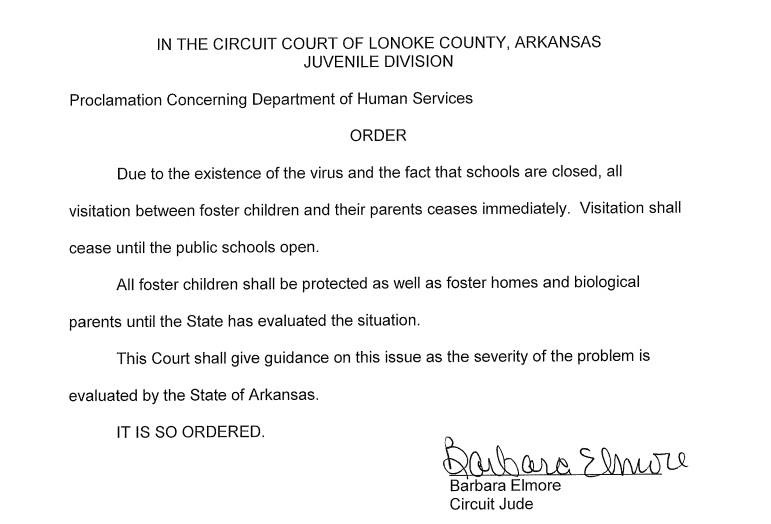 How one mother and daughter have been affected by "social distancing"
March 21st, Leila Fadel, with NPR, provided a story that describes how social isolation is affecting the ability of parents to see their children, and also prolonging the process of trying to get their children out of foster care.
Fadel reports on Jessica, a mother from Brooklyn, New York, whose twice weekly, overnight visitation with her daughter has been suspended due to the Coronavirus pandemic.
Jessica, who asked NPR to only use her first name due to pending legal cases involving the custody of her daughter, explains how she is only allowed to communicate with her daughter through FaceTime, video conference and three-way calls.
"I can't see her anymore, for now," Jessica is quoted as saying.
Before the Coronavirus outbreak, Jessica told NPR how her visits went with her daughter.
"I'm usually feeding her, singing to her, playing with her, we were bonding. It's like [the virus] snatched it away from me now."
To avoid the spread of the virus, child welfare services, foster agencies and family courts around the country are being forced to determine what requires in-person contact.
NPR reports, due to the coronavirus outbreak,
"New York City's courts are only hearing cases that are deemed an emergency or essential. That means Jessica's upcoming court appearance — when custody and visitation were supposed to be addressed — is now postponed for months. Services provided to families are also slowing down."
Anya Mukarji-Connolly, supervising attorney at Brooklyn Defender Services, the organization representing Jessica in her case, told reporter Fadel,
"One of our biggest concerns is the slowdown in family court. We don't know yet how this is going to impact our clients, but we know that it's going to be terrible."
Other states have also temporarily suspended all in-person parental visits.
Maine's Office of Child and Family Services wrote in a letter on their website, addressed to both foster and adoptive parents,
"To ensure that OCFS is remaining connected to youth, parents, and resource parents, it is expected that staff will coordinate contact to occur through phone calls or video conferencing for any families that need to be seen by the end of April 2020."
In California, Los Angeles County courts are suspended through April 16th for all "non-emergency and non-essential matters."
According to NPR,
"Los Angeles County has the largest child welfare system in the country and right now it says it is fully staffed and continuing in-home visits, placements and removals, while also assessing what in-person contact is absolutely necessary. It's also providing protective gear to its staff."
Bobby Cagle, the director of the Los Angeles County Department of Children and Family Services is quoted by Fadel as saying,
"Much of the work that we do is emergency basis, and that means that we have to appear at the home unannounced.
When we do that, we try to equip those workers first with the kind of masks, eye protection, gloves and gowns that they need in the event that they encounter a family member who is, or could be, sick."
The story reports,
Cagle is managing a system of some 9,000 staff who serve about 34,000 children at any given time.
"The work of child protection is a 24-hour a day, seven days a week endeavor across our country," Cagle says.
"And just like police protection and fire protection, our services continue throughout the crisis and the social distancing.
Fadel points out,
"The same isolation that is supposed to keep people healthy could also be detrimental for a child who is being mistreated."
Cagle tells Fadel that calls to the child protection hotline are down due to schools being closed, and teachers and school staff, who normally have an eye out for alleged abuse, aren't seeing kids. This has led Cagle to call on the public to watch for signs of abuse and neglect and to call the Child Protection Hotline.
Cagle told NPR,
"I very strongly encourage the public to remain vigilant about the safety of children in families," he says.
"This is a time of increased stress and we know from the work that we do that this can also cause an uptick in maltreatment of children. And so we want to be very much on the watch for that."
For now, Jessica will have to continue any contact with her daughter via FaceTime and phone calls. Her upcoming court appearances have now been postponed for months, based on the report by NPR.
The services provided to families have also slowed down. Jessica's supervising attorney, Mukarji-Connolly, says,
"Not having access to services, not having access to visitation, it's certainly going to be harmful to the families, but also we anticipate it will delay reunification."
American Joe Show ⭐⭐⭐ Mother has her Kids Taken Away Because She is Exposed to COVID-19 at Healthcare Clinic Workplace
Comment on this article at MedicalKidnap.com.
Moms could be separated from their newborns under coronavirus guidelines
Pregnant women who become infected with the new coronavirus or are exposed to the illness it causes face more distressing news: possible separation from their newborn for up to a week or more.
That's the recommendation of the U.S. Centers for Disease Control and Prevention and the American College of Obstetricians and Gynecology to stop the potential spread of the virus from mother to child.
The new guidelines state "facilities should consider temporarily separating the mother who has confirmed COVID-19 or is a PUI (person under investigation) from her baby until the mother's transmission-based precautions are discontinued." Separation guidance varies from 72 hours to seven days and in some cases up to 14 days depending on time since symptoms and recovery.
It is not known if pregnant women are more likely to get sick from the virus or what if any risk infants face if their mom has COVID-19.
The CDC recommendation notes the health risks and benefits of separation should be discussed with the mother and she should be involved in decision-making.
Hospitals including Massachusetts General Hospital and Johns Hopkins are following the guidelines.
"Transmission of COVID-19 from mother to the newborn after birth, through infectious respiratory droplets, is a concern," Mass General said on its website. "To reduce the risk of this transmission, temporarily separating a mother who has suspected or confirmed COVID-19 from her baby may be recommended by the health care team."
Researchers demand aborted babies' bodies for coronavirus experiments
Scientists who are now claiming that the Trump ban on fetal tissue usage is blocking coronavirus treatment research are using the current pandemic opportunistically to reinstate the usage of tissue derived from aborted babies at government research facilities.
"A senior scientist at a government biomedical research laboratory has been thwarted in his efforts to conduct experiments on possible treatments for the new coronavirus because of the Trump administration's restrictions on research with human fetal tissue," blared the lede in a Washington Post article.
Kim Hasenkrug, an immunologist at the National Institutes of Health's (NIH) Rocky Mountain Laboratories in Montana, told the Post that he has been arguing for a month that the pandemic "warrants an exemption to a ban imposed last year prohibiting government researchers from using tissue from abortions in their work."
'Humanized mice'
U.S. scientists had found last year that "mice could be transplanted with human fetal tissue that develops into lungs — the part of the body the new coronavirus invades," according to the Post report. These "humanized mice" are seen as important by some because they "could then be infected with coronaviruses — to which ordinary mice are not susceptible — closely related to the one that causes the new disease, covid-19."
The fetal tissue to create the "humanized mice" that researchers like Hasenkrug would like to access would have to be provided by women undergoing elective abortions.
Hasenkrug, who works at an NIH research lab, has been prohibited from using aborted baby body parts since Health and Human Services (HHS) announced last year that it had changed its policies concerning the use of fetal tissue.
"Promoting the dignity of human life from conception to natural death is one of the very top priorities of President Trump's administration," an HHS statement explained.
Playing on people's fears
"Those who advocate experimentation using body parts harvested from aborted children are shamelessly exploiting the coronavirus pandemic, playing on people's fears at a vulnerable time so that a select few can continue to use aborted fetal tissue in their research," declared a statement released by the Charlotte Lozier Institute (CLI) in Washington, D.C.
"The fact is that there are modern, successful alternatives available," continued the CLI statement. "Already, over 60 potential treatments are under investigation — none of which need aborted fetal tissue to fight coronavirus."
"Instead of wasting precious time listening to these dishonest claims, we should continue to focus our attention on successful, ethical alternatives that don't require the exploitation of baby body parts, taxpayer dollars, and public sentiment that just wants a swift and compassionate end to this crisis," said CLI.
Last month, CLI criticized claims made in a USA Today opinion piece by San Francisco–based professors Irving Weissman and Joseph McCune. The pair made an appeal similar to Hasenkrug's, asserting, "People will suffer and die for lack of adequate treatments," because aborted fetal tissue could not be used for research.
In December 2018, CLI's vice president and research director, Dr. David Prentice, and senior fellow in life sciences Dr. Tara Sander Lee testified before Congress regarding the array of ethical alternatives to experiments using aborted baby parts and that fetal tissue research is medically unnecessary.
Sander Lee explained that less than 0.4 percent of the NIH's budget is currently going toward research involving fetal tissue; that "after over 100 years of research, no therapies have been discovered or developed that require aborted fetal tissue"; and that researchers have access to a wealth of ethical sources for human tissue, including cells that can be given the coveted quality of pluripotency, or the ability to become other types of tissue.
The CLI scholar went on to detail how the original polio vaccine was first developed with monkey kidney cells; how vaccines for measles, mumps, and rubella can be produced with cell lines from chicken eggs, human placentas, human kidney cultures, monkey cells, and chick embryo fibroblasts; how the vast majority of the research currently being done on the Zika and Ebola viruses does not use fetal tissue; and how even the vaccines currently being produced in the United States with fetal tissue are using cell lines from the 1960s rather than newly obtained tissue from abortions.
Ethical alternatives currently available to researchers "include, but are not limited to, fresh human tissues from adult and pediatric populations, donated and discarded biopsies and surgical specimens, from both living and post-mortem individuals," she continued. "There are numerous examples of investigators successfully using these ethical alternatives for research and clinical trials for studying the most complex processes, such as brain development and neurodevelopmental disorders, immune response to pathogens, and stroke."
Sander Lee is an associate scholar with the pro-life Charlotte Lozier Institute. She holds a Ph.D. in biochemistry, studied molecular and cell biology at Boston Children's Hospital and Harvard Medical School, and has 20 years of experience with both academic and clinical medicine.
How Governments Are Deploying Big Data To Enforce COVID-19 Quarantines
This week a technology startup called Unacast launched a new app called "Social Distancing Scoreboard," which tracks the GPS location of smartphones and grades geographical regions, such as a town, county, and or even a state, on how well residents in those areas are abiding by the government-enforced social distancing rules. The app creates an index, ranked from A to F, for whether people are staying home or not.
Comparing the nation's mass movements between February 28 to March 23 – virus cases started to rise and local governments across the country began to implement "shelter in place" public health orders, which by mid-month, changes in the average mobility for Americans started to slope downwards. As of March 23, the app ranked the US with a "C," detailing how many people in the US are ignoring calls by the federal and state governments to stay home amid community spreading. Continued…
Hysteria spreads like a virus
At first, I could not believe what I was reading! The headline implored, 'Lock Us Down: Suspend Habeas; Save the Nation'. The author Michael Dorf, a Cornell University Professor, was urging the US Government to suspend the rule of law.
Dorf acknowledged that suspending habeas corpus — which has been recognised as a fundamental feature of a free society — is an 'extreme measure', but he believes that it is a small price to pay for making people feel safe.
Unfortunately, the demand to close down society is not confined to a small number of authoritarian minded law professors. The entire Anglo-American media has become wedded to the idea that unless governments adopt extreme measures, humanity will face extinction. Anyone listening to the media or reading the press is left in no doubt that if the British Prime Minister doesn't impose a harsh regime social control, he will be dumped by either his ministers or by popular pressure.
I am an American constitutional lawyer – and I see our government using Covid-19 to take away our fundamental rights
At recent press conferences with Boris Johnson, one journo after another called on him to shut down UK Plc. Larisa Brown of the Daily Mail could barely contain her anger, when she blurted out: "people aren't acting responsibly so when are you going to get tougher and bring in the police?"
Regrettably, the herd like demand to give up hard fought liberties, is coupled with an intense level of hostility towards anyone who disagrees with the call for establishing, what would be in effect a police state. Those of us who raise doubts about the call to close down the nation are denounced as irresponsible idiots, who are prepared to play with other people's lives. They are, in the words of panic-in-chief Piers Morgan, covidiots, who need to be kept at a distance from other members of the community.
The public health emergency facing the world has allowed those who are in any case disposed towards intolerance to let rip at anyone who questions the wisdom of some of the measures put in place by the government. Anyone reading the twitterstorm directed at journalists such as Peter Hitchens or Brendan O'Neill would imagine that instead of raising questions about the shutting down of pubs, they were calling for the institutionalization of child murder.
Predictably, in a climate of insecurity brought on by COVID-19 many people become scared and their anxiety can be easily exploited by groups of fear entrepreneurs. In recent days, the media has gone out its way to highlight every example of anti-social behaviour at supermarkets. It has let rip at parents who decided to take their children to parks or to the seaside on a sunny Sunday. Pictures of people enjoying a day out in the open air have been portrayed as the behaviour of irresponsible COVID zombies that threaten our very existence.
Despite the fact that in reality there has been very little irresponsible behaviour by members of the public, in a febrile atmosphere of blame and recrimination many people have become influenced by the rhetoric of fear. In local community websites and conversations there is far too much finger pointing at people who behave in ways not approved by so called opinion-makers. In these circumstances even people who know that there is something deeply wrong with the demagogic rhetoric of people like Piers Morgan, find it difficult to voice their dissent.
Who are the real #covidiots ?
Sources:
Similar Posts: