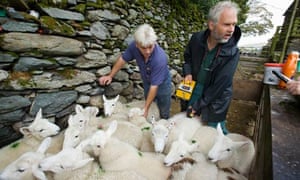 Ever since radiation from Chernobyl rained down on the UK 23 years ago, sales of sheep in affected areas have been restricted. But frustrated farmers now claim the meat is safe – and that testing should stop
Source: Sheep farmers still stuck under a Chernobyl cloud | World news | The Guardian
Post-Chernobyl disaster sheep controls lifted on last UK farms
In total, almost 9,000 farms, and four million sheep, were placed under restriction in 1986. Now restrictions covering sheep movements after the Chernobyl nuclear disaster have finally been lifted from all farms in England and Wales after a mere 26 years while the most dangerous radioactive isotopes are well known to last for thousands of years. So why now?
In a word: Fukushima The devastation that was unleashed in 2011 which dwarfed the Chernobyl accident many times over despite what the MSM continues to report has been making it's way around the globe aprox. every 40 days completing another lap on top of the last. It's accumulative effects are what have been building up since it started on 3/11. Normal background radiation has reached levels where locations like those under sanctions have become a moot point. So, while you read about the good news for Northern UK farmers, just keep in mind there are other forces at work undermining the entire biosphere that are being entirely ignored.
Read the above headline here: http://www.bbc.co.uk/news/uk-england-cumbria-18299228
Save
Save
Similar Posts: