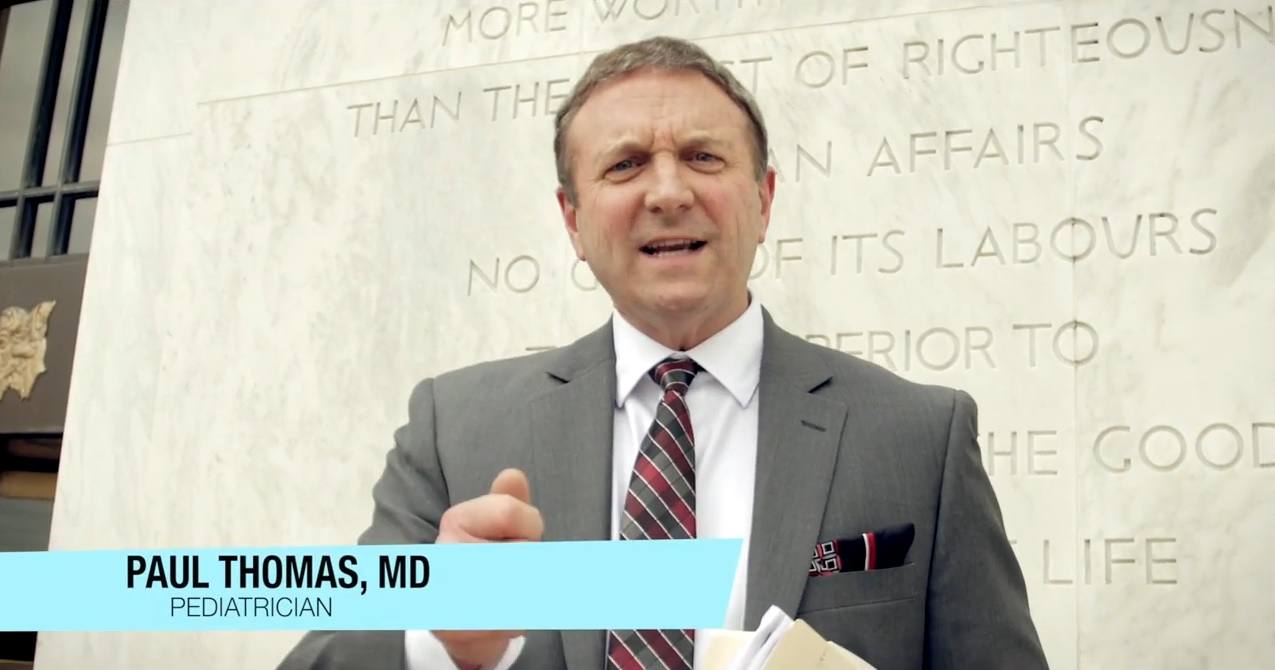 Dr. Paul Thomas, M.D. was born in Portland, Oregon, and grew up in Southern Africa. He has a masters degree in biology, an M.D. from Dartmouth Medical School, and completed his pediatric residency at the University of California, San Diego.
He is a board-certified fellow of the American Academy of Pediatrics, and also carries board certifications in Addiction Medicine and Integrative Holistic Medicine. He started the Pediatric After-hours Clinic (now Pediatric ER) at Emanuel Children's Hospital, where he also taught medical students and residents from 1988-1993.
Dr. Thomas recently joined Del Bigtree on the Highwire to discuss his study and his current situation in his medical practice.
Health Impact News has featured the work of Dr. Paul Thomas many times over the years. He is a champion in the Health Freedom movement, and strongly believes in Informed Consent when it comes to vaccines.
Because Dr. Thomas believes that parents know best when it comes to the care of their children, he has parents in his practice with a wide range of views on vaccines. Some of the parents of children in his practice do not get vaccines at all, while others do vaccinate, although usually at a slower pace than what the CDC recommends.
Dr. Thomas does not bully parents into taking his position on vaccines. He states that if parents want to vaccinate their children, at least he is the kind of doctor that has actually researched vaccines, and not just accepted what was taught in medical school which is not much when it comes to vaccines, other than Big Pharma's marketing slogan that "all vaccines are safe and effective."
*Informed consent is required by law for a doctor to tell a patient before they get vaccinated that they are enrolling in a "post market surveillance safety study"
The TRACE ACT HR 6666 defines this long term study
Dr. Paul Thomas knows first hand that there are risks, and his belief is that if parents decide to vaccinate their children, they are probably better off in his practice where he can better help them deal with any negative side effects. The vast majority of doctors who do vaccinate children have no knowledge of vaccine injuries, because they don't even know how to recognize them.
Hence, Dr. Thomas is one the unique doctors in America today who can actually look at the data of his patients over the years, and compare the outcomes of vaccinated children versus unvaccinated children, a study that the CDC refuses to do.
And that is just what he did. Along with James Lyons-Weiler, Ph.D., they published their study in the International Journal of Environmental Research and Public Health.
The title of the study is Relative Incidence of Office Visits and Cumulative Rates of Billed Diagnoses Along the Axis of Vaccination.
Shortly after he published this study which has great value to the public and parents who want to make informed decisions about the health of their children and vaccination, his medical license in Oregon was suspended, because the study clearly shows that unvaccinated children tend to be much healthier than those who are vaccinated.
Vaccinated Vs. Unvaccinated: The Study The CDC Refused To Do — Interview with Dr. Weiler
"This study represents a major methodological leap forward in vaccine satety studies" says Dr. James Lyons-Weiler, who designed the study. "Our study shows how often vaccinating patients have to repeated instances of medical care for conditions suspected by many as potential caused by vaccines. Our measure, the Relative Incidence of Office Visits (RIOV), is sensitive to the severity of disease and disorder – specifically the disease burden. While teasing out causality is difficult in observational studies, our use of natural internal positive and negative control conditions – fever, which is known to be caused by vaccines, and well-baby visits, which is not caused by vaccines – provide added assurance that we are seeing a likely causal signatures".

— IPAK
COVID-19 has reignited the vaccine debate worldwide as significant portions of the population express their unwillingness or hesitancy to take the experimental vaccine. A vaccine that was developed in record time with rolled back regulations, limited oversight, as well as a limited scope in the safety trials.
The vaccine manufacturers conducting the trials carefully screened potential volunteers, and carefully selected candidates to help them ensure a passing grade for government regulators and then mass distribution.
In this interview, Spiro is joined by Dr. James Lyons-Weiler who recently co-authored a study comparing vaccinated and unvaccinated children. A study the CDC has refused to perform despite four different congressional bills which would have obligated them to conduct. All four bills failed.
The fact that all four bills failed may not come as a surprise, considering Big Pharma is the largest lobby in DC. But the key findings of the study, may indeed surprise you.
The study was independently conducted, peer reviewed, publicly funded and published 22 November 2020.
Sources:
Vaccinated vs. Unvaccinated: Guess who is Sicker?
LETHAL INJECTION 2: A CORRUPTION OF BLOOD
DOCTORS AROUND THE WORLD ISSUE DIRE WARNING: DO NOT GET THE COVID VACCINE!!
Similar Posts: