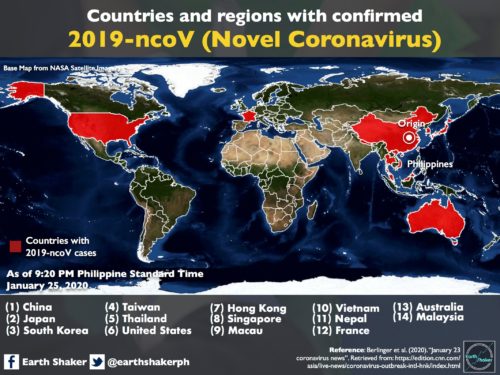 Story by Nicole Morgan and Justin Case
The news out of China is a lot worse than the world realizes. The situation in China is completely out of control. Medical staff on the frontline of this coronavirus outbreak are dealing with 100+ patients a day and wearing adult diapers as they do not have time to go to the toilet and don't have replacements for their very fragile hazmat suits.
Guan Yi, the virologist who identified SARS, with a chilling perspective on the Wuhan outbreak: "I've seen it all: bird flu, SARS, influenza A, swine fever and the rest. Most of the past epidemics were controllable, but this time, I'm petrified."
As with the Russians and the Chernobyl lies, China is NOT reporting accurately. They are drastically under-reporting numbers although they have let slip that 29 of 31 provinces are now infected. They are closing Disney, the Great Wall and other gathering places – all as the whole country wants to return home for the Lunar New Year which occurs this weekend.
According to the doctor in one of the videos below, one person can infect 14 people – instantly. That's a terrifying projection rate.
Approximately 40 million Chinese are barred from leaving Wuhan and 13 smaller cities around that megapolis, making this the largest quarantine in world history.
Chinese city Vuhan is blocked by army, nobody is allowed to leave the city. It is the city where the first coronavirus victims were registered. There are rumors of more than 100 casualties already. This is a big city, 12 million people live there, more than in New York pic.twitter.com/s6X8RFzQzm

— Best of Aliexpress and China (@coolstuffcheap) January 22, 2020
Meanwhile, the World Health Organization is playing politics. It's taking Chinese data at face value. It need to get off its ass and declare a global emergency.
Meanwhile, China is lying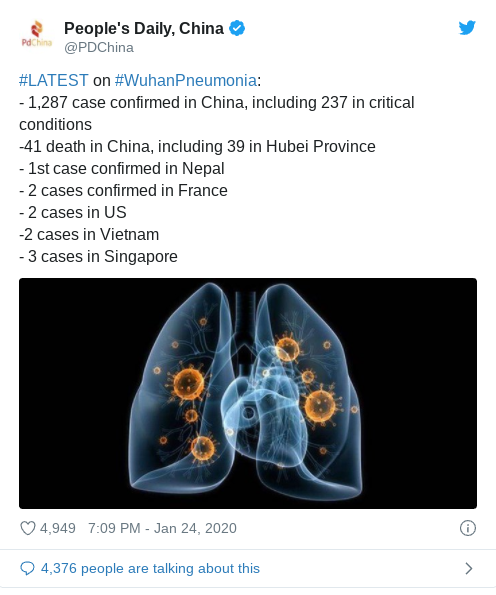 The truth is leaking out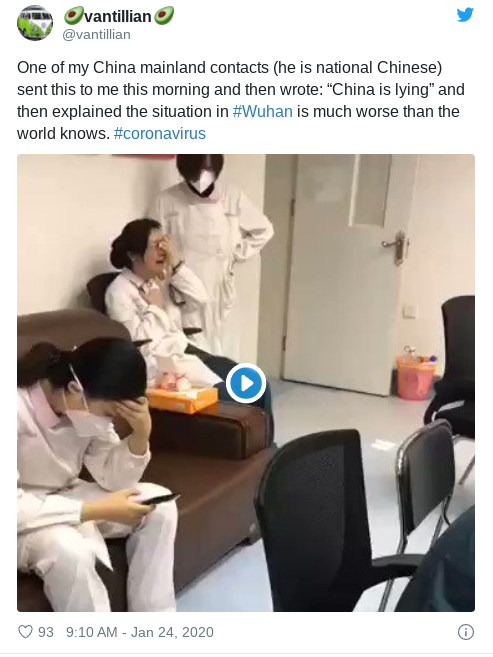 Believe it or not, a #coronavirus strain is patented by the The Pirbright Institute, which is partially funded by the Bill and Melinda Gates Foundation. Another strain, which was isolated from humans, is owned by the CDC.
Patent US7220852B1 – CORONAVIRUS a.k.a. SARS was granted to the CDC and the "inventors" are all American:
Read more
Today it is infinitely easier to kill one million people than to control one million people.

— Zbigniew Brzezinski
China built a lab to study SARS and Ebola in Wuhan – and US biosafety experts warned in 2017 that a virus could 'escape' the facility that's become key in fighting the outbreak
The Wuhan National Biosafety Laboratory is the only lab in China designated for studying dangerous pathogens like SARS and Ebola
Ahead of its January 2018 opening, biosafety experts and scientists from the US expressed concerns that a virus could escape the lab
In 2004, a SARS virus 'leaked' from a lab in Beijing
Experts say the coronavirus that's infected more than 800 people mutated in animals and became capable of infecting humans at the Wuhan seafood market
But a 2017 article warned of the unpredictability of lab animals that scientists at the Wuhan lab intended to inject with viruses
Continue reading
Coronavirus Pandemic Simulation Run 3 Months Ago Predicts 65 Million People Could Die
"I have thought for a long time that the most likely virus that might cause a new pandemic would be a coronavirus."

— Eric Toner
As of the 24th of January, the deadly coronavirus that originated in China has killed 26 people and infected more than 900 ZeroHedge reports.
UPDATE: as of Jan 29 2020 9:30 UTC Confirmed cases 6,165 and 133 deaths according to the Johns Hopkins CSSE tracking Global cases.
But according to one simulation run less than three months ago, things could get much, much worse. Less than three months ago, Eric Toner, a scientist at the Johns Hopkins Centre for Health Security, had run a simulation of a global pandemic involving the exact same type of virus, according to Business Insider.
His simulation predicted that 65 million people could die "within 18 months".
Chinese researcher escorted from infectious disease lab amid RCMP investigation
A researcher with ties to China was recently escorted out of the National Microbiology Lab (NML) in Winnipeg amid an RCMP investigation into what's being described as a possible "policy breach."
Dr. Xiangguo Qiu, her husband Keding Cheng and an unknown number of her students from China were removed from Canada's only level-4 lab on July 5, CBC News has learned.
A Level 4 virology facility is a lab equipped to work with the most serious and deadly human and animal diseases. That makes the Arlington Street lab one of only a handful in North America capable of handling pathogens requiring the highest level of containment, such as Ebola.
Security access for the couple and the Chinese students was revoked, according to sources who work at the lab and do not want to be identified because they fear consequences for speaking out.
Sources say this comes several months after IT specialists for the NML entered Qiu's office after-hours and replaced her computer. Her regular trips to China also started being denied.
At meetings on July 8, 2019 NML staff were told the researchers are on leave for an unknown period of time. They were told not to communicate with them.
Qiu is a prominent virologist who helped develop ZMapp, a treatment for the deadly Ebola virus which killed more than 11,000 people in West Africa between 2014-2016.
She worked with Gary Kobinger, who is now a professor in the Department of Microbiology and Infectious Diseases and director of the Research Centre on Infectious Diseases at Laval University in Quebec.
Study of Coronavirus Victims Finds "96% Identical Genome Level to a Bat Coronavirus"
A new scientific study that took samples from five coronavirus victims found that the strain is "96% identical at the whole genome level to a bat coronavirus."
Following the viral spread of videos out of China and other Asian countries showing people eating bat soup, the media attempted to debunk a link between the coronavirus and bat eating, partially by insisting the connection was "racist."
This debunking campaign came despite Chinese authorities admitting that the source of the outbreak was an illegal animal market at which snakes and bats are sold in Wuhan.
The BBC reported that "bat soup is not particularly commonplace in the country" and that the connection to bats was "misinformation," despite linking to a new study in their own article which proved the opposite.
The results of the study, titled 'Discovery of a novel coronavirus associated with the recent pneumonia outbreak in humans and its potential bat origin', were published on the archive website for the Cold Spring Harbor Laboratory.
The full abstract of the study reads as follows;
Since the SARS outbreak 18 years ago, a large number of severe acute respiratory syndrome related coronaviruses (SARSr-CoV) have been discovered in their natural reservoir host, bats. Previous studies indicated that some of those bat SARSr-CoVs have the potential to infect humans.
Wuhan was the province where 5G was rolled out, now the center of deadly virus
WUHAN, Oct. 31 (Xinhua) — The branches of Chinese major telecom operators in central China's Hubei Province announced Thursday the launch of commercial 5G applications in the province.
Wuhan City, the capital of Hubei, is expected to have 10,000 5G base stations by the end of 2019, said Song Qizhu, head of Hubei Provincial Communication Administration.
China Telecom has established a 5G network covering airports, railway stations and other areas in the city, which will also help boost the digital and intelligent transformation of the industries with 5G technologies, said Li Hongbo, general manager of the company's Hubei branch.
China Mobile Hubei Branch has activated 1,580 5G base stations in the city as of mid-October, achieving the 5G coverage of universities, transportation hubs and other densely populated areas, according to the branch.
Exposure to 5G waves leads to …. " flu-like symptoms."
Huawei is Helping Fight Coronavirus by Setting Up 5G Base Stations…
Huawei' s representatives for the Hubei region urgently set up a Coronavirus outbreak protection project team on the 23rd; providing a work force of about 150 people. From receiving the notification from the Wuhan City Epidemic Prevention and Control Emergency Center to the commissioning of 5G base stations, the entire construction from network planning, survey, design and construction to fiber laying, erecting base stations and commissioning was completed in just 3 days.
In June of 2019 The Ministry of Industry and Information Technology (MIIT) of China has awarded 5G licenses to 4 operators — China Telecom, China Mobile, China Unicom, and cable network company China Broadcasting Network. These networks have planned to officially build their 5G network in over 40 cities.
China Mobile and China Unicom are looking to cover the exact same 40 cities. These include 27 provincial capitals, nine municipalities (including the four directly-administered zhixiashi 直轄市 and the five jihua danlieshi 计划单列市) and four other very lucky cities.
They are:
Beijing, Tianjin, Shanghai, Chongqing, Hefei, Fuzhou, Lanzhou, Guangzhou, Nanning, Guiyang, Haikou, Shijiazhuang, Zhengzhou, Harbin, Wuhan, Changsha, Changchun, Nanjing, Nanchang, Shenyang, Hohhot, Yinchuan, Xining, Jinan, Taiyuan, Xi'an, Chengdu, Lhasa, Urumqi, Kunming, Hangzhou, Dalian, Qingdao, Ningbo, Xiamen, Shenzhen, Xiong'an, Zhangjiakou, Suzhou, Wenzhou.
You automatically believe this Chinese coronavirus is a killer? You automatically believe the press when they ratchet up the fear? You automatically believe medical experts have found a virus and proved it's causing human illness?
You're on the Gong Show on roller skates.
Congratulations.
References
#Justincaseyourwondering Here are the departures out of Wuhan Airport for Today.
Similar Posts: